Blog
How to effectively promote Facebook ads and avoid getting into troubles?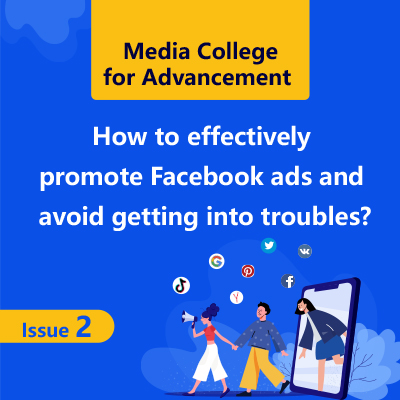 April 22,2020
Why do ads show violations while displaying?
How to boost the efficiency of Facebook ads and avoid getting into troubles?
Today, we present some precautions about violations of
Facebook policies for application software under spotlight
And develop an in-depth understanding about them with me.
Tools
1. Point operation with finger icon or self-drafted comments attracting clicks of clients will all be deemed as misleading hits to clients.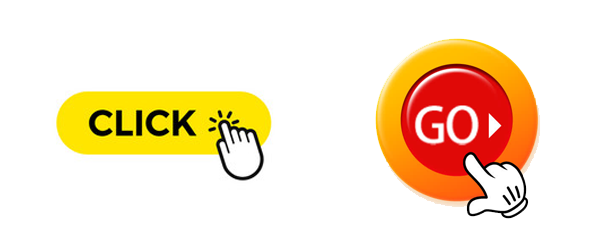 Source of Pictures: network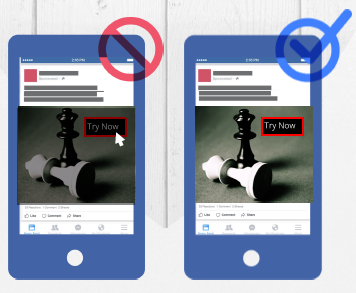 Source of Pictures: Facebook
2. The advertising texts and headlines contain inflated ratings (including inflated ratings in the form of symbols, graphics or numbers);
3. Apps such as beauty camera/photo editing app /video editor, etc. shall neither use any materials that fabricating the bootylicious image of women, nor any material focusing on sensitive positions of women like breast and hip, all of which will be judged as sex implication.
4. Avoid using misleading and deceptive content in promotion. For instance, the ads of application software shall not express with the words like "profitable". However, recruitment ads are exceptional to the rule.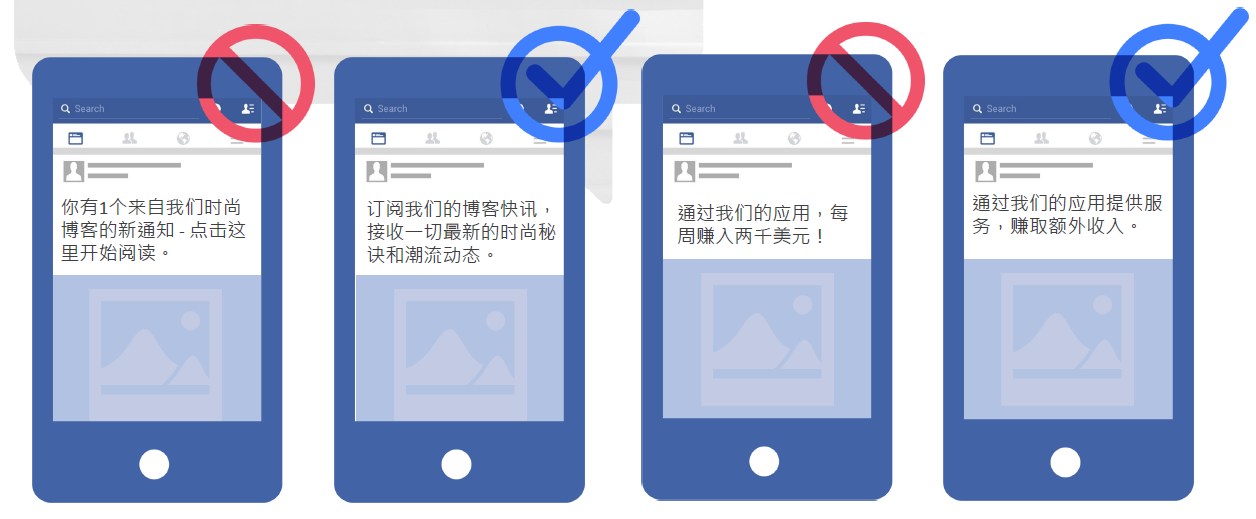 Source of Pictures: Facebook
Dating
1. Make sure that the product belongs to serious dating for users above 18 years old; the date shall be one to one other than several persons, groups or group chat room; the search results and screening function shall have same weight (traffic rank, hottest user and so forth shall be avoided).
2. The placement of ads shall strictly abide by the directional requirements: above 18 years +emotional condition +gender. Dating products shall not be Casual Encounters/Hook Ups. No apps for paid brides are allowed.
3. For dating products, open an account first, and then apply to be added into the white list. Account applied shall only be used for the purpose applied. After the certification of the dating product, no social contents shall be added to the product any more. Same rule shall also apply for social products.
Social Contacts
Social contact products have certain differences with dating products. Facebook has extremely strict requirements for products in these two categories, and will never approve any accounts with unclear definition. Here are some scenarios of frequent violations:
1. Never designate any special figure or add any character pictures, and never promote with the words like "help users make friends" (including the contents in the introduction on the landing page), which may be judged by Facebook as dating products. Dating products shall apply for white list according to aforesaid requirements.
Advertising materials, landing page and fans page shall not have the directional words and descriptions implying date, like love/pretty/ hot/lonely/soulmate/dating /single, etc. Highlight for features like Find Couple/Date and inclusion of love icons (including icons shown below) should be avoided. Otherwise, the products may be judged as dating products with white list requirement.

Source of Pictures: network
2. The dress and status of the characters in the video and pictures should be acceptable to the average person. Materials with figures wearing pajamas, underwear, tights (exposing a large area of the chest, etc.), or untidy clothes shall be avoided.
3. One individual picture or video and text of one figure shall have words like hi/call me/ say hi/meet me/come to my room and chat with me, etc. Live broadcast products shall not demonstrate the ID number or name of the blogger. In general, the picture or video and text shall have the tendency of identifying the corresponding person.
Games
1. Excessive intimacy between men and women cannot appear in the material (for example: the scene of coaxing a person in opposite gender to get to sleep in bedroom, underwear lost in the home of a male person, forced marriage against any bundled woman). In addition, sheltering of contact positions of bodies with pictures, texts or expressions will also be deemed as adult contents or sexual implication.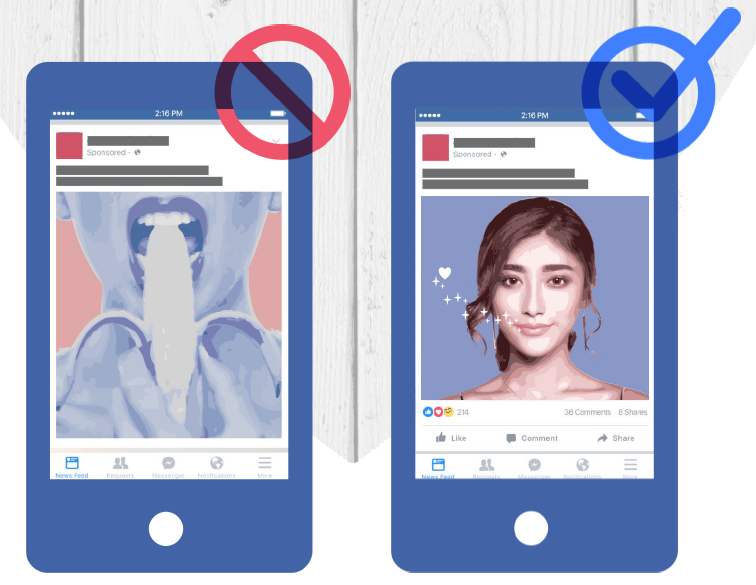 Source of Pictures: Facebook
2. Violations: excessive exposure of female clothing, or excessively sexy movements or behaviors in the materials (for example: excessive emphasis on body proportion, inadvertent exposure of sensitive positions during fighting, etc.)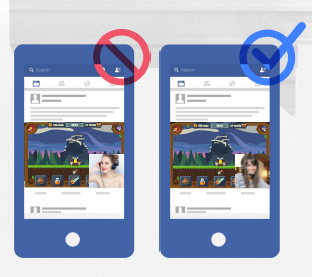 Source of Picture: Facebook
3. The material must not appear too bloody and violent to make clients feel that they have been threatened or intimidated (for example: death of animals from drowning, animals being attacked on heads, animals suffering burn or electric shocks; weapons pointing directly toward the screen; any articles covering the nose and mouth of any person to make him/her faint; any sharp object penetrating into body of any person, or blood stains, and so forth).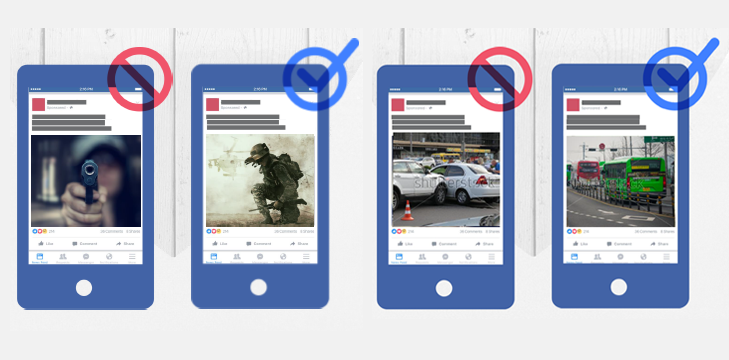 Source of Pictures: Facebook
Financial
First of all, make sure to arrange the promotion activities after acquiring the corresponding financial license, qualification or other required approval documents. Secondly, never use any implied texts and materials, like specific amount and the corresponding fixed loan terms; "transfer to the account immediately"; "no threshold in borrowing, you just need to use your mobile phone", "zero interest", etc.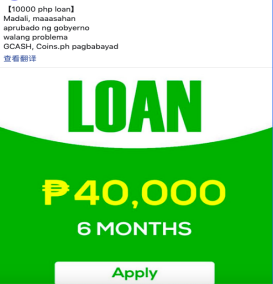 Source of Picture: network
The above are some guidelines for violation avoidance of Facebook ads involving with application software! I hope these guidelines could be of any help to you. The policy express in this session is ended here, and let's look forward to the next session.
START NOW
If you are interested in learning more,we are glad to hear from you.
Contact Us