News
Yeahmobi India Project Was Enlisted into Top 100 Cases of the Belt and Road Initiative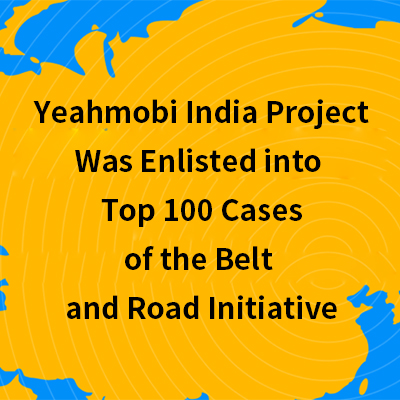 August 29,2019
Xi'an, August 29, 2019 -Yeahmobi Network Technology Co., Ltd (hereinafter short for "Yeahmobi") announced that its project in New Delhi, India was successfully enlisted into the Top 100 Promotional Cases of the Belt and Road Initiative in Electronic Information Industry in 2019 (hereinafter short for "Top 100 Cases") as a typical project for the Belt and Road Initiative.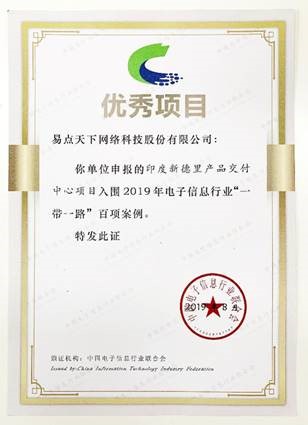 According to information, Top 100 Cases were collected and promoted by China Information Technology Industry Federation toward the whole industry. The purpose is to summarize experiences and achievements, carry out the Belt and Road Initiative and boost the "going abroad" strategy of electronic information industry. As the tie and bridge among competent governmental authorities, electronic information industry and enterprises, China Information Technology Industry Federation seeks to assist and support the government in industry management, engage in international exchange and cooperation and boost the sustainable development of the electronic information industry. Top 100 Promotional Cases of the Belt and Road Initiative in Electronic Information Industry in 2019 was released at the Summit Forum on International Cooperation in New Generation Information Technology and One Belt One Road Initiative recently held in Chengdu.
Yeahmobi Makes Strategic Arrangement in India Market
Established in 2016, the New Delhi Product Delivery Center in India is an important stronghold of Yeahmobi for its global strategy. The Center mainly provides marketing services for Indian projects of enterprises in Pan-Internet of Things of China, as well as local projects of India. Customers include China Reading Limited and We Sing under Tencent; Bigo and Tiger Teeth under YY; UC News and Vmate under UC; Dailyhunt boasting as Toutiao in Indian Version, etc.
Among them, Bigo Live and Bigo Likee under the flag of BIGO, a pioneer in the global operation of pan-entertainment, commenced the cooperation with Yeahmobi in the development of India market as early as 2017 and 2018, respectively. With the delivery in mainstream media and push of programmatic ads, the New Delhi Product Delivery Center in India facilitate these two Apps to outperform the KPI for monthly installation quantity and significantly improve their retention rate.
In addition to programmatic ads, Indian team has also utilized the marketing strategy of innovative videos in the promotion campaign for We Sing, an overseas version of K Sing for All of Tencent. With unique advantages compared with traditional live broadcast and music products, it attracts clicks of users through interactions between hot figures and screens, which has contributed to the substantial growth in daily users of We Sing.
UC NEWS has cooperated with Yeahmobi in the business promotion and traffic monetization since 2015. During the promotion stage, the Indian Team cooperated with local TV stations in India to launch customized news columns for UC NEWS in accordance with its news nature. Together with the integration of on-line marketing and off-line resources like local airport ads, bus station ads and so forth, the India Team achieved the rapid growth in both installation quantity and daily active users. As a result, UC News successfully ranks among the first echelon in both the download list and market share for news apps in India.
About Us
As a support center for overseas development of Yeahmobi, New Delhi Product Delivery Center in India plays a significant role in boosting customers to develop overseas business, discover new potential opportunities, deepen strategic cooperation, etc. The honor of Top 100 Cases is also the recognition of the industry for the efforts and achievements of Yeahmobi in practicing the national initiative of the Belt and Road, and demonstrates the vision and initial aspiration of Yeahmobi in boosting global operation of enterprises and developing a global-oriented To B ecosystem.
The rapid development of Yeahmobi in recent year also acquires the recognition of the industry and all sectors of the society. We have been granted with many rewards and honors, including Unicorn Enterprise of China in 2018, Top 100 Enterprises in Software in China for two consecutive years from 2018 to 2019, Going Abroad Platform with Values Ranked Top 10 in 2018, Top 10 Service Providers in Cross-border E-commerce Industry in 2017, Grand Reward of Google for Best Partner in Mobile Channel in the Mainland China in 2015 -2018, Outstanding Cooperation Partner in China Region of Facebook, etc.
START NOW
If you are interested in learning more,we are glad to hear from you.
Contact Us